Subaru Forester e-Boxer
(prices)

choose the subaru forester that suits you ...
Check out the technical features and standard equipment for each version of the SUBARU FORESTER e-Boxer model. Engine, performance, cockpit, accessories ... Find all the specifics by downloading the document opposite.
Need detailed information on the version (s) you are interested in? Do not hesitate to contact us !
The Subaru Hoyas garage is able to answer all your questions.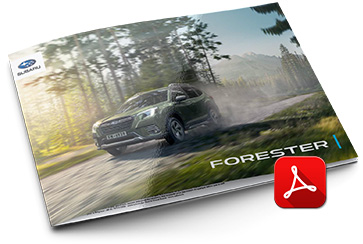 Forester 2.0i e-BOXER Comfort & Luxury
The basis for the family
Max speed (km/h)

188

Acceleration 0-100 km/h (sec)

11.8

Fuel consumption, mixed (lit./100 km)

8,1

CO2 emissions, mixed (g/km)

185

Type of engine

e-Boxer Gasoline hybrid, 4 cylinders flat
Forester 2.0i e-BOXER Sport
Robust and sporty
Max speed (km/h)

188

Acceleration 0-100 km/h (sec)

11.8

Fuel consumption, mixed (lit./100 km)

8,1

CO2 emissions, mixed (g/km)

185

Type of engine

e-Boxer Gasoline hybrid, 4 cylinders flat
Forester 2.0i e-BOXER Premium
The explorer full of experiences
Max speed (km/h)

188

Acceleration 0-100 km/h (sec)

11.8

Fuel consumption, mixed (lit./100 km)

8,1

CO2 emissions, mixed (g/km)

185

Type of engine

e-Boxer Gasoline hybrid, 4 cylinders flat