Subaru Outback
(Security)
security made in subaru ...
The new generation SUBARU OUTBACK does not forget its roots and fundamentals. Its values are those that were inculcated by its elders and issues of 4 generations of Outback: Sense of duty, sense of service, comfort, reliability and safety. Its passengers must arrive safely, regardless of the route chosen! And to achieve its ends, the Ouback has a wide range of equipment and technologies to achieve very high levels of comfort and safety...
Active Security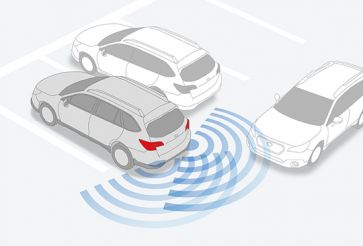 Detection of vehicles in blind spots
This system uses sensors to alert you to the possible presence of vehicles in blind spots for safe queuing changes. It can also warn you of a risk of collision during a reverse maneuver.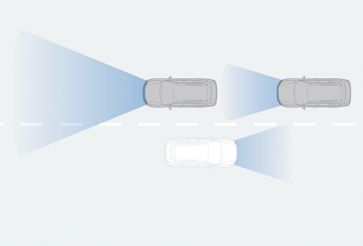 Automatic switching of high beam / low beam
The high beam / dipped beam automatically switches according to driving conditions, improving the visibility of the Outback for added safety when driving at night.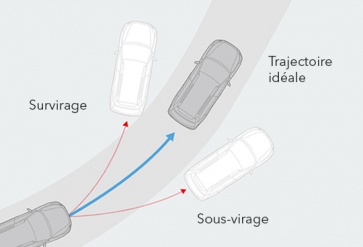 Vehicle dynamics control
Vehicle dynamics control monitors and analyzes the vehicle's trajectory through a variety of sensors to ensure that the vehicle follows the driver's demands. In the event of tire slippage or excessive speed resulting in vehicle offsetting, AWD torque distribution, engine power and wheel brakes are adjusted to help the vehicle maintain its trajectory.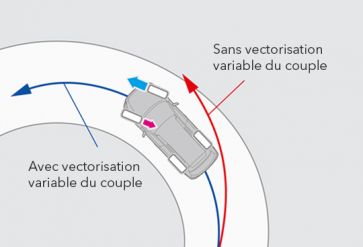 Variable vectorization of the couple
In turns, the variable vectorization of the torque plays on the brakes to limit the torque transmitted to the inner wheels and to increase the one transmitted to the outer wheels. It helps negotiate tight turns and promotes accurate vehicle behavior. In combination with the vehicle dynamics control system, it helps to protect you from the worst, giving you a total sense of security.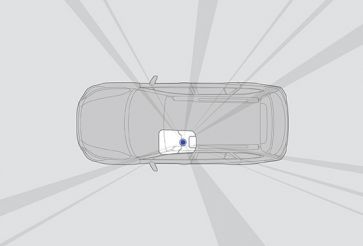 Increased visibility
We have redesigned the window frames to improve your visibility and reduce blind spots. We also mounted rear quarter windows at the front and integrated the exterior mirrors to the front doors to limit blind spots and improve visibility to the front.
Passive Security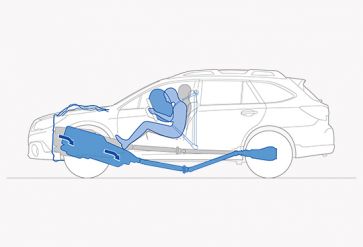 Cockpit architecture
Every Subaru innovates in safety. In the event of a head-on collision, the SUBARU BOXER engine and gearbox on your Outback are designed to separate from the cockpit for your protection.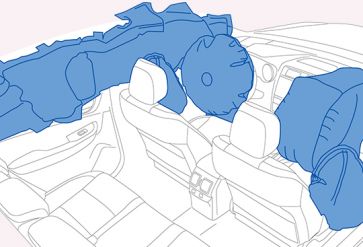 Airbags with additional restraint system SRS
The Outback is equipped with SRS * front airbags, SRS front airbags, SRS curtain airbags and SRS knee airbags as standard to provide every occupant with a high level of crash protection.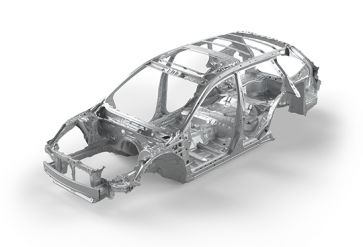 Annular reinforcement structure
The annular reinforcement structures reinforce the interior, from the roof to the doors, from the uprights to the floor. This design disperses impact energy away from the occupants in the event of a collision. It also helps to strengthen and lighten the chassis, resulting in better protection.
Headrest on front seats
At the same time adjustable in height and diagonally, the headrests are designed to adapt to the different morphologies and the preferences of the passengers.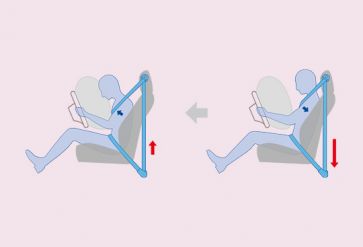 Front seatbelts with pretensioners and load limiters
The height-adjustable front seatbelts feature pretensioners to keep occupants firmly in place, and load limiters to reduce torso shock.